Big news!  After working towards this for some time, we have now switched chocolates!  All of our chocolate is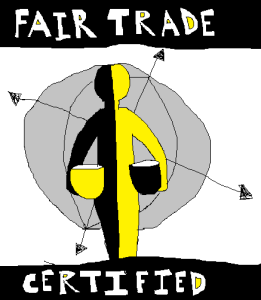 now Fair Trade Certified, which means that standards are in place to ensure that all workers involved in the process of farming and processing the chocolate are paid fairly, given safe working conditions, and allowed to thrive.  We hope that by offering this in addition to our already Fair Trade bananas, we can continue to grow as a socially responsible company.
In addition, our regular chocolate and our vegan chocolate are now the same chocolate.  The only difference is that the vegan chocolate is kept separate to prevent cross-contamination from the other dippings.
For vegans:
This chocolate does not contain dairy, but it was crafted on equipment previously used for milk chocolate, and it does contain sugar (certified Fair Trade).   If you have any questions about this, you can reach us through the form under the "Contact" tab.