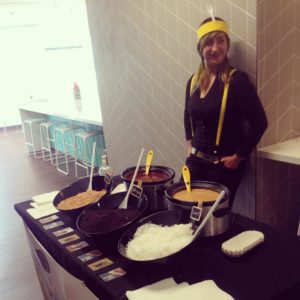 We are hiring right now in the following positions:
Catering team member: Dip bananas to order at our catering events, provide excellent customer service.  We especially need people that are able to lead catering, which means that you have a car and are a good independent thinker and problem solver and can communicate in a friendly manner.  This position is low commitment; there are no guaranteed hours, but there is high flexibility because you can accept shifts on an event-by-event basis.  Especially need people for weekdays during the daytime.
Catering manager: In charge of scheduling and managing our catering events, new client acquisition, current client relationships, email list.  Need a self-motivated, entrepreneurially-minded person that is a good written and oral communicator.  Must be organized, be able to follow through on commitments, be a creative problem-solver. 20-40 hours/week.
Please contact us for additional info or to request an application if you think any of these positions could be right for you!