posted by
March 8 2013
on
Dear Bananarchists,
As you know, SXSW is a special time in Austin. It's a time to kick back and enjoy the culture, see lots of shows, get free swag from everyone ever, impress your friends with the hipness of your Instagrams, and RSVP for events you probably won't show up for, right?
WRONG!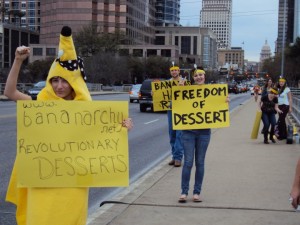 Bananarchy will be exposing the evils of commercialism, materialism, and self-promotion that accompany SXSW with a peaceful protest downtown. Dress to express and bring your protest face. We will provide the bananarchist headgear for anyone who forgets theirs, as well as a few chants, protest songs, signs, and propaganda. Musical instruments that are easy to carry are encouraged. We'll be passing out bananarchist headgear to the public and fighting The Man one educated sister or brother at a time.
INCENTIVE
As though you needed any!
– EVERYONE gets a yellow Bananarchy headband and spoon
– 2 hour shift = free food
– 4 hour shift = free food AND coupon for free Bananarchy banana
– 6 hour shift = free food AND coupon for free Bananarchy banana AND free Bananarchy t-shirt
RSVPing accurately would be extremely helpful.  You can RSVP on Facebook here.

This will coincidentally take place on the first day of our 2013 season, March 11.
WHEN: MONDAY, MARCH 11 from 12 p.m. to 8 p.m.
WHERE: 6th Street and San Jacinto, unless The Man makes us move.  Keep updated on our twitter (@bananarchyatx).
Categories: News